Dr. Bryan's Tooth Station
What People Are Saying
"We loved the ladies in this office! They were great with our kids and Dr. Bryan was so nice and informative! A nice change from our previous dentist."
"Dr. Bryan has been my dentist since I was 2 years old. I am now 22 and still going to him. He and his staff are Amazing!"
"Always friendly and helpful. My son was having some odd tooth pain and they got us in quickly (within 24 hours) and helped out. It didn't turn out to be a major issue, but the peace of mind is always great."
Previous
Next
Welcome To The Tooth Station
Children's Dentist in Folsom, California
Welcome to The Tooth Station, home to Folsom children's dentist, Dr. Bryan Randolph. When your child visits our office, they are treated to personalized care from our dentist and team. As a private practice, we answer to patients and their parents and are committed to fun and friendly dental care that creates healthy smiles for life.
Read What Our Patients and Their Families Are Saying
"Dr. Bryan and his staff are wonderful! My boys have been patients for the past 12 years. I would highly recommend the tooth station." - Brady D.
More Reviews
Helping Infants, Children and Teenagers Smile
Our children's dental office treats infants and kids as old as 14 years of age. We help your child grow into a healthy, confident smile. If they are headed into their first year of school, we provide oral health assessments for kindergarten patients.
We teach healthy habits, provide comprehensive dental exams, and help your child have a positive visit every time they see us. Dr. Randolph and his team provide full pediatric treatments for children, including:
Caring for children and their smiles is what we love most about our jobs. Dr. Randolph is committed to making dentistry fun and comfortable for his young patients. We work closely with parents as well, ensuring they are updated on their child's treatment plan at every stage. We encourage new patients and parents to browse our website, read about our services, and get to know our doctor before they come in for a visit.
Contact us to schedule your child's appointment!
Meet Our Folsom Dental Team
As your children's dental health professionals, our doctor and team provide the skilled care necessary to keep growing smiles healthy between dental visits and as they get older.
Personalized Dental Care for Kids
Building a foundation of trust and treating our patients with specialized, individual attention is what makes our office unique. With Dr. Bryan as our practice owner and only dentist on staff, your children see the same friendly face at each visit -- unlike large, corporate-owned dental chains.
We understand how uneasy a child can feel about dental visits, and we know that we can make a difference by providing a consistent and positive experience. Our entire team is dedicated to excellent, personalized care and service to make your children's interactions with us enjoyable.
Contact Us Today and Schedule an Appointment!
If you are looking for a children's dentist near you in Folsom, contact The Tooth Station today to make your child's next dental appointment. Our entire team looks forward to meeting your family and providing your children with excellent dental care.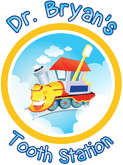 Make An Appointment Today
Have a Question?
We want you and your children to experience the very best pediatric dentistry has to offer and we know sometimes there can be questions regarding your little one. Please feel free to contact us about anything and everything!
Call 916-984-6747
Email Us