Join Our Community
Our Community Is Where Our Heart Is
Folsom, CA
The Tooth Station is proud to be the longest serving children's dentist in the Folsom area and we love to be a part of our community throughout Natomas. We sponsor local sports teams that our family dentistry patients are part of and have been involved with numerous local activities supporting and promoting children's dental health throughout the years.
The Tooth Station About Town
Tooth decay in young children has reached epidemic levels with more than half of all California children experiencing decay by kindergarten. National Children's Dental Health Month brought up opportunities for us to talk with local preschools and daycares about how to prevent that. Dr. Randolph and Tina the Tooth visit several Folsom and El Dorado Hills preschools every year to speak to preschoolers about their oral health.
We had a great time playing games, singing songs and of course delivering goody bags filled with toothbrushes and toothpaste to remind kids how important it is to keep Tina the Tooth, pearly white and happy! We'll continue our Tina Tours when we return from our trip providing dental aid to Nicaraguan kids. When your child is part of a preschool or daycare that would be interested in a visit from Tina the Tooth, let us know today!
Youth Sports Teams Sponsored
Foothill Gold Competitive Softball Team
We are proud to sponsor our patient Sydney Edwards and her team. They took first place at the ASA Metros softball tournament and went to the ASA Nationals in Chattanooga, Tennessee. Congratulations!
Folsom Bulldogs Junior Peewee Football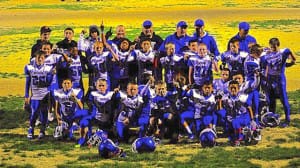 We are so proud of our patients! Congratulations to Jacob Melander and the rest of the Bulldogs for winning the National Championship! Woohoo!
Folsom Strikers Soccer Team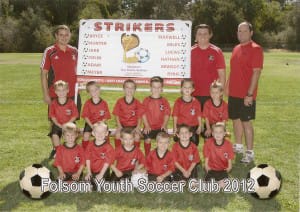 We are also thrilled to sponsor the Folsom Strikers Soccer Team. Our patients Bryce Anderson, Nathan MacBride, Max Prouhet, and Colin Franzen all are superstars out there on the field.
Field Trips For Local Schools
We have a great time hosting school field trips. Last month we hosted Summit Christian School of Folsom, CA and introduced them to the fun side of coming to the dentist. Our mascot, Tina the Tooth, came out to meet the class and Dr. Randolph showed them how we fix a cavity. The children were excited to feel our "tickle brush", otherwise known as the polishing toothbrush, and to see and touch all of our other equipment.
This hands-on interaction with our children's dental office provides children the chance to experience our tools as objects of interest, rather than anything to be feared. At the end of the field trip, each child gets a goody bag with a toothbrush, floss and toothpaste, as well as a fun and educational experience that will stay with them long after they return home. We love hosting schools and providing education and enjoyment to local kids, so if your school is interested in coming to our office, email us your request today!
Dental Aid For Kids In Nicaragua
Every year, Bryan Randolph, DDS visits dental clinics in Managua and Jinotepe in Nicaragua to care for children who have little to no access to dental care. Read more on our Volunteer Dentistry page!
Consult With A Children's Dentist
Contact our kid-friendly dental office online or by phone today to schedule an appointment to discuss your child's dental state and find out how we can help.